When Color is Sensitive to Light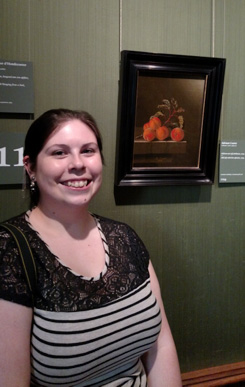 My name is Marcie Wiggins and I am participating in the NSF-funded International Research Experience for US Students (IRES) this summer in the Netherlands. I have been interested in conservation and cultural heritage studies since high school as a unique, challenging way to utilize chemistry. Pursuing chemistry and art history as an undergraduate at the University of Maryland, I was able to further explore this interest through internships at the Library of Congress and the Smithsonian's Museum Conservation Institute. Now, I continue this focus as an analytical graduate student at the University of Delaware. Through my experiences in cultural heritage science, I have seen the various ways cultural heritage studies have benefited through partnerships with the sciences.
Paintings provide a challenging chemical system for many reasons, one of which is the multiple layers of paint an artist can use in compositions. As a result, below the visible surface there can be many distinctive layers interacting and affecting the object. My summer research, mentored by Dr. Katrien Keune, will be addressing a recent phenomenon concerning arsenic paints, such as orpiment (As2S3), where arsenic degradation products have been found throughout other layers in a painting, from wood support to the top varnish layer. These pigments are sensitive to light, which accelerates degradation. As arsenic sulfide pigments photo-degrade, they turn into arsenic trioxide, which is slightly soluble. As a result, it is believed the arsenic is transported throughout the paint layers with water, where the arsenic may react with other compounds as well. This can pose a risk for conservators interested in removing the old varnish layers and can influence how they handle the object's treatment, as this can causes bright oranges to loose some of their color. 

To study the transportation of arsenic species as a function of relative humidity, model samples of orpiment on differing grounds will be exposed to a range of relative humidities in open and closed systems. These types of weathering experiments are common in cultural heritage research to reconstruct objects degradations to better prevent the processes. This is similar how car coatings are put through extreme conditions to improve them. Cross-section samples will be taken during the process allowing us to study the multilayer system. This means samples will be embedded in resin, turned on their side, and polished to expose all the layers on the paint sample. Over these past two weeks, I have been setting up humidity chambers using salt solutions and monitoring the systems. I am now focusing on making cross sections of the controls and initial samples, which will next be analyzed with light microscope, mapping-FT infrared and mapping Raman spectroscopy, X-Ray diffraction, and Scanning electron microscopy with elemental analysis.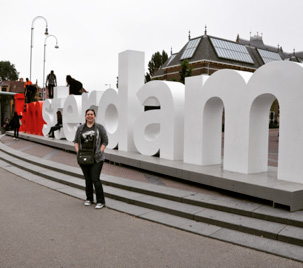 Working at the Rijksmuseum in Amsterdam in an effort to tackle these cultural heritage questions is a dream come true! During my art history classes, many fantastic paintings were housed in the Netherlands, so it will be great to see those same paintings in person finally. But more importantly, it is exciting to work alongside conservators and scientists on such a vast collection of cultural heritage objects. Already I have gotten to not only work with historical cross-sections, but I have gotten an up close look at these objects in the conservation labs, instead of just being sent cross-sections to analyze from across the world. A conservator, Nouchka deKeyser, showed me a Jan Davidsz. de Heem painting containing arsenic paint to analyze alongside my reconstructions, which has helped put the whole project into perspective. Having worked in and with museums in the US for several years, I have wanted to broaden my experiences beyond the US. I am looking forward to learning the different approaches and techniques abroad to return to Delaware with. I hope to forge collaborations and partnerships that will last beyond this summer, as I have already found this a great place to work and a lovely country.
Click here to visit the Cultural Heritage Research in the Netherlands site and Marcie's blog.