Replication Studies of the Solomon R. Guggenheim Museum's B-10 Space Modulator: Summer Research at NU-ACCESS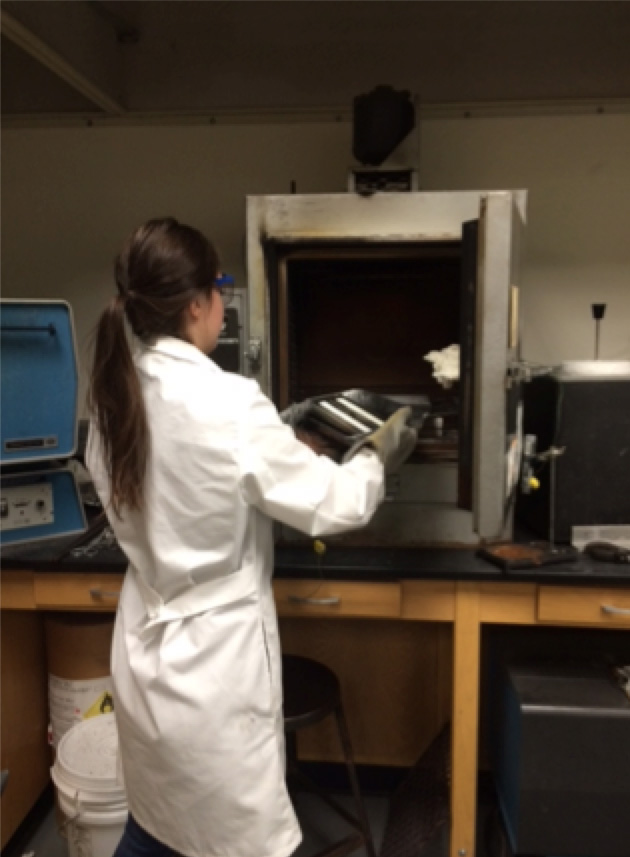 I am an undergraduate student going into my senior year at Princeton University and I just did a summer Research Experience for Undergraduates (REU) with the MRSEC/NU-ACCESS program at Northwestern University.  Right now NU-ACCESS is collaborating with the Guggenheim Museum to study the works of Hungarian Bauhaus artist László Moholy-Nagy in order to prepare for an exhibition of his art that the Guggenheim Museum, in collaboration with the Art Institute of Chicago and the Los Angeles County Museum of Art, will launch in 2016.  The aim of my project was to scientifically study one artwork by Moholy-Nagy, B-10 Space Modulator, by trying to remake the work myself.  I had never heard of or seen his art before this internship but, when I saw that the project description said I would be able to mix art and science, I jumped at the chance.  Even before the internship, because I live nearby in New Jersey, I got to take a trip to the Guggenheim's conservation department to see the piece and some other works for the exhibition.  Being able to see the artwork close up and discuss little details with the Guggenheim conservators was an amazing experience.  My first glimpse into the world of Moholy-Nagy had me excited to begin my internship.
The first day of the internship, I went to the Art Institute of Chicago to participate in a cleaning workshop so that I could meet some of the Institute's art conservators and see them in action.  The cleaning workshop consisted of the conservators exploring new chemical solutions to use when cleaning paintings, sculptures, and other artworks.  I was able to help some of the conservators make their cleaning solutions, and I got to watch them test out the solutions by cleaning the grime off an old canvas.  It was interesting to learn that conservators have to clean the dust and grime that has built up on artworks before the art can be displayed, and that they can adjust the pH of the cleaning liquid to clean more safely and efficiently.  I also was intrigued to learn than the first cleaning liquid used by conservators was spit and is still a legitimate cleaning tool today!
After the cleaning workshop, I was able to begin working on my project.  Before I go into my work, I should explain that B-10 Space Modulator is made of a clear plastic polymer called Poly(Methyl MethAcrylate) (PMMA).  As if the choice to paint on clear plastic was not unusual enough, Moholy-Nagy incised the plastic and heated it up to form it into a three-dimensional shape.  So, my job was to try to systematically play around with this material: incising, painting, heating, and forming it to achieve results similar to the actual work of art.  Then, looking at which techniques yielded the most similar results gave insight into what techniques Moholy-Nagy may have used to create the original work.  A typical day in the lab consisted of using an engraving tool to incise sheets of PMMA, painting these sheets, heating them up in an oven, and forming them into shapes while still hot.  This was how each mockup was created.  I would also perform analysis on the mockups to characterize the materials I was using and to see if heat had any molecular effects on them.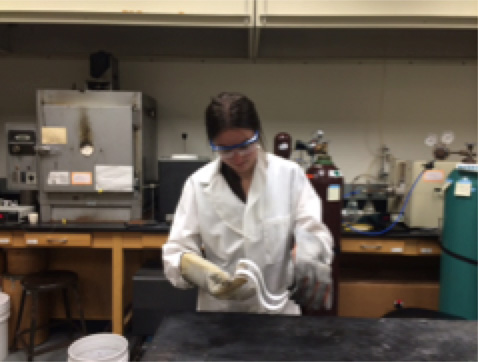 In the end, I was able to eliminate some techniques as possibilities and determine certain processes that Moholy-Nagy likely did use.  For example, I saw that Moholy-Nagy likely did not use tongs to form his piece because tongs leave deep marks in the mockup PMMA that are not present in B-10 Space Modulator.  Cracking of the paint that I noticed in one of my mockups supported the hypothesis that Moholy-Nagy painted the plexi before heating it. These experiments have also helped us to demonstrate the range of temperatures to which PMMA can be heated without bubbles forming. It was great being able to learn about Moholy-Nagy's creative process as well as how research in the field of cultural heritage works.  I loved being able to combine art and science into one research project.  Overall, this internship was a great experience!