Background
Between the 15th and 18th centuries, bookbinders recycled medieval parchments into new binding materials for printed books. While scholars have long been aware that books from this time period often contain hidden fragments of earlier manuscripts, the recent development of chemical imaging techniques offered only recently the possibility to read them.
The book responsible for sparking the study is a copy of Greek poet Hesiod's Work and Days from 1537. Purchased by Northwestern in 1870, the copy is the only remaining imprint retaining its original slotted parchment binding. Although it was this binding that originally caught the attention of Northwestern librarians, it was the suggestion of writing beneath the parchment on the book board which incited new questions. 
Scientific Tools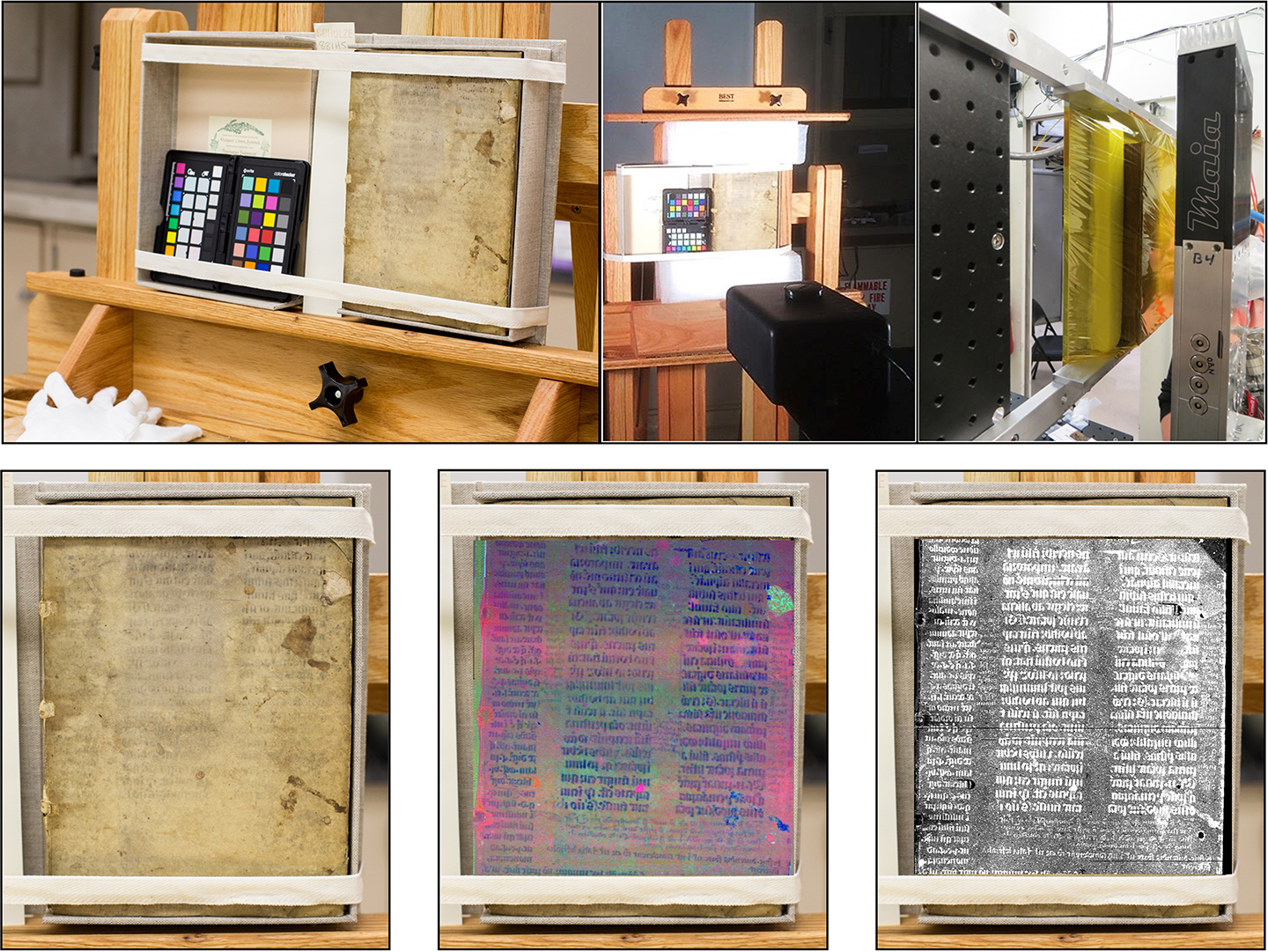 In this study, portable macro X-Ray Fluorescence (MA-XRF-tube), Visible Hyperspectral Imaging (HSI) together with Synchrotron based macro X-Ray Fluorescence (MA-XRF-SR) are combined with signal processing methods to reveal the biography of a degraded manuscript recycled as binding material for a 16th century printed edition of Hesiod's
Works and Days
.
The analytical techniques allow visualizing the hidden text, revealing passages from the Institutes Justinian, a 6th century A.D codification of the Roman Law, with further marginal comments on medieval Canon Law. In addition, the identification of the materials (e.g. pigments, inks) part of the original manuscript together with their sequence of use are revealed: i) the preparation of the parchment using a Ca-based preparation layer, ii) drawing of ruled guide lines, using a Pb-based pen or ink, iii) writing of the main text using a rich Fe-gall ink with modulating color pigments (Hg-, Cu- and Pb- based) and iv) addition of two types of comments to the main text, one of the ink used for the comments being a Fe-gall ink rich in Cu.
Learn More
Learn about the methodology of this investigation and the tools and techniques used in order for the results not only to authenticate this artifact but also to make informed decisions regarding its conservation.
Read the Project Publication
Back to top